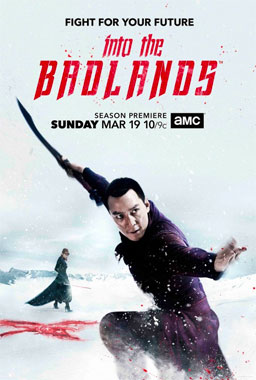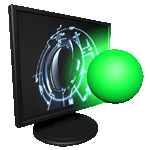 Into The Badlands (2015)
Traduction du titre original : Dans les Mauvaises Terres.
Trois saisons (6 épisodes ; 10 épisodes ; 16 épisodes).

Diffusé aux USA à partir du dimanche 15 novembre 2015 sur AMC US.
Sorti en blu-ray américain le 8 novembre 2016.
Seconde saison diffusée aux USA à partir du 19 mars 2017 sur AMC US.
Seconde saison diffusée en France à partir du 30 avril 2017 21H sur SUNDANCE TV FR.
Première et seconde saison diffusées en France sur Amazon Prime

De Alfred Gough et Miles Millar, inspiré du roman chinois du 16ème siècle, Journey To The West (le roi singe, la pérégrination vers l'Ouest, Saiyūki) de Wu Cheng'en ; avec Daniel Wu, Aramis Knight, Emily Beecham, Sarah Bolger, Orla Brady, Marton Csokas, Ally Ioannides, Madeleine Mantock, Benjamin Papac, Mike Seal, Oliver Stark.

Pour adultes.

Après une succession de catastrophes autant naturelles que provoquées par les humains, la civilisation a été balayée : sans électricité, matière première ou force de travail, les grandes villes sont tombées en ruines. Les survivants sont retournés aux champs et aux mines, et le chaos s'est installé. Cinq cents années plus tard, une féodalité s'est installée : les Barons, tels les Shoguns, se partagent les terres et les ressources, et pour protéger leur maison, ils emploient les "clippers", tels les Samourais, maîtres dans un seul art, celui de tuer, et fidèles jusqu'au sacrifice de leur vie. Les armes à feu ayant été bannies, les lames et les arts martiaux sont partout, et seuls les plus forts et les plus brutaux prospèrent. Les plus faibles - les "Cogs" - les serfs - servent ou meurent.

Les Nomades sont des bandits de grands chemins recrutés parmi les Cogs en fuite ou des Clippers déchus, à l'instar des Ronins ; les Poupées sont des gens qui quelque soit leur âge ou leur sexe sont livrés à la prostitution et vendus à des maisons closes et sont la source d'informations précieuses. Enfin les Makers ("faiseurs") sont des ingénieurs, vivants souvent à l'abri dans des zones reculées, ayant conservé le savoir, les techniques et les livres du passés, et pouvant fabriquer des machines et des prothèses en recyclant les ressources.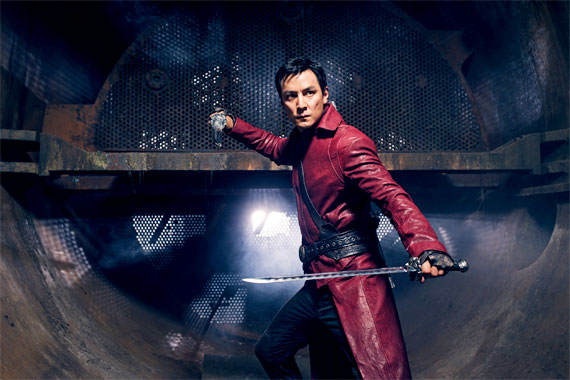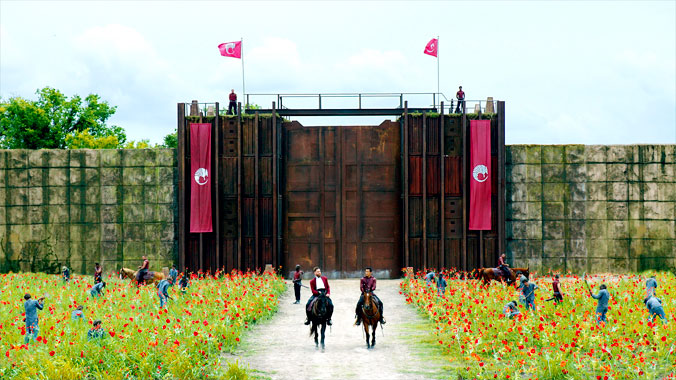 ***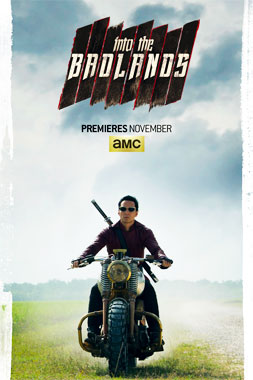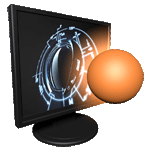 Saison 1 (2015 - 6 épisodes de 45 min environ)
Into The Badlands S01E01: Fort (Fort).
Into The Badlands S01E02: Un poing comme une balle (Fist Like a Bullet)
Into The Badlands S01E03: Une cigogne blanche étend ses ailes (White Stork Spreads Wings)
Into The Badlands S01E04: Deux tigres soumettent un dragon (Two Tigers Subdue Dragons)
Into The Badlands S01E05: Un serpent descend en rampant (Snake Creeps Down)
Into The Badlands S01E06: La main aux cinq poisons (Hand of Five Poisons)
***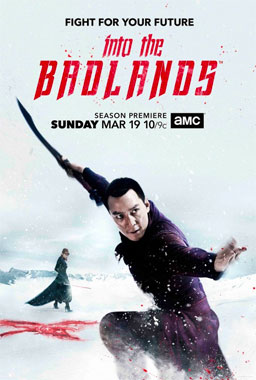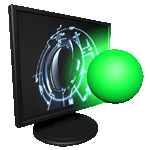 Saison 2 (2017 - 10 épîsodes)
Into The Badlands S02E01: Le Tigre repousse la montagne (Tiger Pushes Mountain)
Into The Badlands S02E02: La Force de la serre d'aigle (Force of Eagle's Claw)
Into The Badlands S02E03: Soleil rouge, Lune d'argent (Red Sun, Silver Moon)
Into The Badlands S02E04: La Paume du Renard de Fer (2017)
Into The Badlands S02E05: Le Singe bondit à travers la Brume (2017)
Into The Badlands S02E06: Le Léopard guette dans la neige (2017)
Into The Badlands S02E07: Cœur noir, montagne blanche (2017)
Into The Badlands S02E08: Le dard de la queue du Scorpion (Sting of The Scorpion's Tail).
Into The Badlands S02E09: Le Rossignol ne chante plus (The Nightingale Sings No More)
Into The Badlands S02E10: Le Souffle du Loup, le Feu du Dragon (Wolf's Breath, Dragon's Fire).
***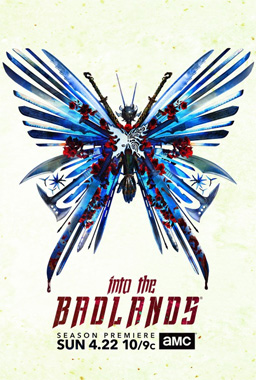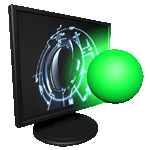 Saison 3 (2018 - 16 épîsodes)
Into The Badlands S03E01: Le Phoenix entre en scène (Enter The Phoenix)
Into The Badlands S03E02: La Lune se lève, le Corbeau cherche (Moon Rises, Raven Seeks)
Into The Badlands S03E03: Le Léopard piège le Lapin (Leopard snares Rabbit)
Into The Badlands S03E04: Aveugles Assassins Cannibales (Blind Cannibal Assassins)
Into The Badlands S03E05: Porte le Tigre à la Montagne (Carry Tiger to Mountain)
Into The Badlands S03E06: Le Vent Noir hurle (Black Wind Howls)
Into The Badlands S03E07: La dernière danse de la Libellule (Dragonfly's Last Dance)
Into The Badlands S03E08: Le Léopard attrape le nuage (Leopard Catches Cloud)
***
Donnez votre avis sur cette série en nous rejoignant sur le forum Philippe-Ebly.fr
***